About North Shore Charters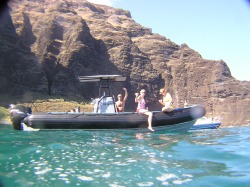 The Company
North Shore Charters is a locally owned and operated company. We have been in business for 18 years. We take pride in offering quality sightseeing and snorkeling tours on the North Shore of Kauai. Our tours are done aboard a rigid-hull inflatable that offers an exceptional ride.

The Boat
North Shore Charters operates a 27 ft. rigid-hull inflatable that was custom made for us. The side tubes consist of 7 separate air chambers, making it virtually unsinkable. We are inspected annually by the U.S. Coast Guard to insure that we have all required safety gear and proper maintenance of the vessel. The boat is powered by twin Suzuki 150 horse power, four stroke engines that utilize fly-by-wire technology. These engines emit little, to no exhaust fumes. The type of boat that we operate allows us to get very close to the coast. We are able to enter sea caves where many other boats cannot venture.



The Captains
North Shore Charters' captains have a vast amount of experience on the ocean and have worked on the Na Pali coast as licensed captains for many years. They are happy to share their knowledge of the coast, and Kauai, with their passengers. They are very adept at navigating the multiple sea caves. They are trained in first aid and CPR.



The Crew
North Shore Charters' crew are experienced water people. They are happy to share their knowledge with passengers as they explore the Na Pali Coast. They are trained in first aid and CPR.



---